There is plenty of documentation about how arts and crafts can play a huge role in health and well being in Care Homes. But fitting activities into a busy, often stressful day can be daunting. Hiring in professional Artists experienced in working in health-care settings to assess the options and train staff can be great fun and very rewarding. But it might be beyond your budget.
Carers have the most important skills needed; they know their Residents well and want them to enjoy their day. In-coming teachers might not be able to spot the subtle signs that a Resident is having a rewarding experience or that they are getting bored or distressed. Residents often wont open up to new people. The only thing that matters is that the activity, even if it is just loosening stiff hands by playing with tools or being intrigued by the squishy feel of the clay, is that it adds stimulus, and hopefully fun, to the day.
I'm thinking mainly of people with Dementia here but Clay Modelling will be very popular with all sorts of Elderly Residents. Be prepared for lots of very rude models and lots of laughs!!
These basic principles can be used for all arts and crafts- and the results will always be just as good.
Clay Modelling in Care Homes; Low cost, straight-forward, self-hardening, recyclable.
Clay Modelling kit- One time purchases, max £60
You will need;
-1 x 12.5kg bag of Scarva Earthstone ES70  Architectural Body Clay a professional quality white clay from Scarva, my favourite supplier of outstanding sculpture clays. Including delivery you will spend about £25-£30.
-A bucket (the clay bag always leaks!)
-a choice of tools; Wooden Modelling Tools and Ribbon Tools will be the most popular.Scarva have a good range  but I buy them from Top Pot Supplies ( best quality yet lowest prices!) Amazon has affordable letter stamps (Small or larger) that will be very useful. 
-Re-usable plastic table-cloth cover if you are worried about scratches on your tables as this clay has small grit in it.
-a few micro-cloths. They are the quickest, easiest cloths for cleaning tables and hands.
-Boards are optional. B&Q will custom-cut a sheet of MDF for you. A board wide enough to fit across a wheel chair is great for some people.
Approx cost, incl. sheet MDF; £60. You don't need all these items to start off.
The quality clay is the important item. Clays are made with recipes and therefor there is an infinite number of types of clay, each with particular properties. ES70 is absolutely lovely to use; it feels very nice, it's not sticky, it doesn't stain, it's easy to clean up ( on carpet let it dry + brush out), it's not irritating to sensitive skin and you can eat it! Most importantly it is very easy to use so people get good, rewarding results quickly. Beginners deserve a great material that will reward their bravery for trying something new and give them fab results that will spur them on.
ES70 works very well as a self hardening clay and can be decorated with poster paints once it's dry. Residents can keep favourite pieces in their rooms for a while. It can mean a great deal to visiting families to see nice things their loved one has made.
Plan to recycle all the clay, even if it's painted or has dried completely. Explain that the clay is expensive so you need to keep it for next time so that they don't think it's because you assume they will make rubbish! People are usually perfectly happy to get a photo of their work and then let it go. Often it takes the pressure off to make a 'product' and they can relax and enjoy the making part more.
What To Make?
Anything and nothing! Just try out the material, let your-self and your Resident play around, feel the material, flatten it, poke it! Put a little water on it and feel the smooth change in the texture. Letter stamps are great- get your resident to pick out the letters of their own or a family-member's name. Press in every day objects. Try all the tools; it never matters what the tools are used for. Make models to get a conversation going. Give an enthusiastic resident some space and quiet to try things at their own pace. You don't need to 'teach' you just need to share the experience. It's a lovely thing to do.
Let people know that this is professional quality clay and tools; Residents are often very prickly about being treated like children and people forget that Adults are allowed to play too and that creativity is important for everyone's well-being. We call it 'A Hobby' so it sounds mature! If you make your own things along side them and laugh about your mistakes it sets the right tone.
Work with a group or just one person for as much time as feels right. Have Art and Craft as part of any day, not just as a special occasion.
Re-using the Clay
-At the end of a session drop all the clay back in the bag. (lots of people will love smashing the work up!)
-Put bag in Bucket
-slowly pour  a cup or so of water over the clay in the bag to soften the clay.
-Close bag w/ twisty
-leave minimum over night.
-place bag on floor and step on it a few times to "knead" the clay, turning bag a few times.
-Voila! It is ready for use. You can re-cycle your clay endlessly.
! Bag goes rock-hard; Allow to dry completely, drop lump on floor to break up, put pieces in bag and recycle
! Bag goes quite hard; knock holes all over lump.(hammer + screw driver= surprisingly satisfying task!) Return to bag and recycle.
! Bag goes too squishy; Tip clay onto a board and allow to dry until useable. "Knead" a few times over the day (or two) so that it dries evenly.
Storage
-Always close bag tightly w/ twisty
-Ideally store in a handy frost free place but it doesn't matter  if the clay freezes.
-Ideally have the bucket on wheels as 12.5kg is quite heavy (plant pot wheels – Home-Bargains, £1.99.)
-Have all the kit together for quick access by everyone.
Homes need to be adaptable like 'normal' homes and organise a way for Carers and Residents to feel welcome to relax and make some mess. You wont get much with clay. Have a broom and a dust pan and brush handy. Enjoy!
You can see more about the wonderful, 2 year long, Arts Care Gofal Celf Project shown in the pictures here; The Tumble Commission, parts 1-8 
General information about Workshops with Osprey Studios.
More information about collaborative and community projects.
Interesting article:
There is plenty of research about how arts and crafts can play a huge role in individual health and well-being in care homes. Clay modelling is a therapeutic activity that has become increasingly popular in the care sector.

Clay is cathartic in nature as it allows an individual to express an array of emotions. For older people and those living with dementia, clay therapy provides creative stimulation, social interaction and develops fine motor skills with a variety of positive outcomes, including increased confidence, concentration and motivation.
Rebecca Buck, professional sculptor at Osprey Studios has offered clay therapy to older people and those living with dementia as part of Arts Care Gofal Celf's Gwalia project in Wales. She believes it is fundamental for older people and those with dementia to experience varied activities such as clay therapy.
"It's fun, soothing and engrossing. Being creative might have played a huge part in a person's life, happiness and self-expression. Even for those who are living with dementia, they still need an outlet," she said.
"Clay therapy can replace the verbal language that has been lost in some individuals. Several of our participants who were non-speaking and prone to angry outbursts showed wonderful skill and contentment with drawing, clay and painting. That gave their families a way to link with their loved one, which resulted in happier residents.
"Arts and crafts can create a bridge between residents and their loved ones and offers pathways into communication and reminiscence. Making family visits relaxed is therefore very important as the focus can tend to concentrate on the individual's condition."
The qualities of clay have a calming effect on those living with dementia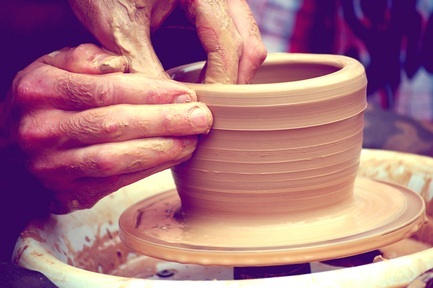 A previous study, published by the American Academy of Neurology, revealed that individuals who participate in arts and craft based activities can experience a reduced risk of developing Mild Cognitive Impairment (MCI), which can often lead to dementia.
Research manager at Alzheimer's Society, Dr Clare Walton, said: "Although this study looks at mild cognitive impairment rather than dementia, it does add to previous evidence that keeping your brain active during life with arts, crafts and social activities might reduce the risk of developing memory problems."
According to Alzheimer's Society, 80 per cent of people living in care homes have a form of dementia or severe memory problems. For some, clay therapy and arts and crafts activities can conjure up anxious feelings about their capability.
Similarly, although clay therapy sessions have been found to support the interactions between care staff and residents, Ms Buck believes that care workers can also often undervalue their skills and can be shy about providing craft-activities.
She suggests that, at times, care staff require 'encouragement to feel confident that clay activities are about providing a sensory rich experience, rather than creating a piece of art'.
Clay gives shapes to formless entities of feelings and ideas
Since conducting extensive research, Sumita Chauhan, researcher at the University of Kent, found that clay is the most familiar material to make sculptures with and is currently used for therapeutic as well as creative purposes.
She said: "My workshops on clay modelling involve people with dementia and are organised to provide enjoyment through the creative process of making sculptures. Working with clay is a very effective way of individuals expressing themselves as it doesn't restrict it to verbal communication only. I have realised the act of creation and involvement in the process is as important as the final creation.
"Creative activities have many benefits for people with dementia. The possibility of transforming a lump of clay into a form provides self-control and builds up confidence. Clay as a material has many qualities. Its softness and smoothness has a calming effect on people with dementia, and the process of using clay to make a sculpture offers individuals a wide variety of sensory experience.
"Preparation of the clay starts with kneading first and this process requires a lot of force and pressure. Sometimes, while doing this, individuals living with dementia let out their pent up anxiety and, to a certain extent their frustration, as a non-verbal communication."
'Clay sculptures become a source of communication and reflection'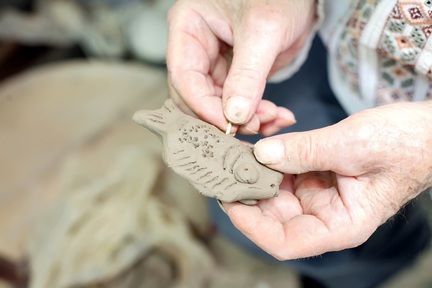 Clay modelling can also be a valuable social activity. Co-operation and sharing of ideas in groups can promote a sense of identity and a sense of belonging.
Commenting on the many benefits, Ms Chauhan said: "Clay modelling is a slow process and as the form starts building up, it takes a lot of patience to complete the details required on the surface. This allows individuals to leave a personal mark on their work. As a result, clay sculptures not only become a source of communication but also a source of reflection.
"Most of the participants in my workshop sessions instantaneously react to the material. I have found that the tactile contact of the material often becomes the starting point of conversation. An open discussion across the table makes it easy to know each other and be social.
"It is worth giving maximum time to develop individuals' ideas of what they want to create, thus helping to build their identity. Instead of explaining the process, a demonstration is more effective.
"Watching others working with clay or making a sculptural form certainly stimulates individuals. There is a definite involvement and the outcome of such interaction is their response and comments about the sculptural form, such as their likes or dislikes. Sometimes people reminiscence a past experience which they associate with the material or the form they are seeing."
Art projects in care homes rekindle imaginations and trigger memories
A two year arts care project involving residents at Gwalia Mynydd Mawr care home recently culminated in the unveiling of a new sculpture.
'Yma a Nawr' was funded by the Baring Foundation and delivered by Carmarthen-based Arts Care Gofal Celf. The project brought professional artists of various disciplines into Gwalia's Mynydd Mawr care home to work with residents and their families.
The interactive sessions included printing, textiles and sketching.
Commenting on the success of the project, Jodie Boyd, occupational therapist at Gwalia, said: "The arts are proven to have numerous benefits within residential and nursing care settings, the storytelling and reminiscence work is particularly successful when a person's short-term memory has started to deteriorate but their memories from years ago remain intact.
"Arts Care Gofal Celf's work has rekindled imaginations, triggered memories, provided opportunities for socialising and conversation and increased self-esteem."